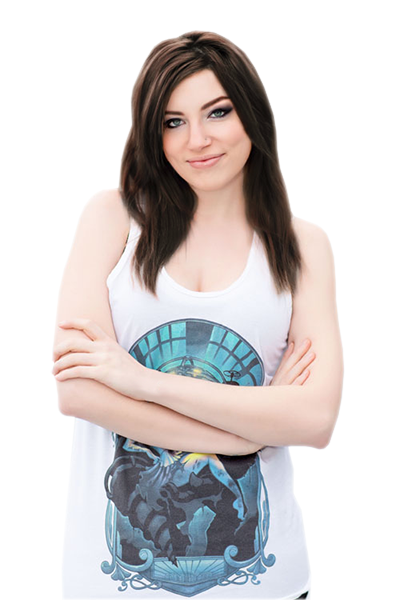 Destiny is a world renowned cosplayer most well-known for her iconic Harley Quinn costume from "Injustice: Gods Among Us", and her original take on the iconic Stay Puft Marshmallow Man from "Ghostbusters". She was raised on classic sci-fi movies, anime, and fantasy, and has been gaming since she could hold a controller.

Her mother taught her how to sew at age six and she was instantly hooked, beginning a lifetime of costume building and crafting influenced by the things she loves most. She has been costuming at conventions since 2003, and has made a name for herself in the community where she is now well known. She has been invited to conventions across the United States, Mexico, Europe and Canada. She has competed in craftsmanship contests and has won various awards at the master level. Destiny has made over 100 costumes to date! She makes all her own props, costumes, and accessories and aims for costume accuracy above all else. She hopes through her love of the craft, enthusiasm, and hard work, she will inspire and be a good role model to others

She loves the challenges that cosplay presents, and the skills it requires, and feels that with each new costume she grows as an artist. In her spare time, if she isn't gaming, Destiny loves to cook and bake; food is one of her passions. She is also a huge animal lover and enjoys caring for her cats and various reptiles.
SOME FACTS!
Name: Destiny Nickelsen. Yes, that's her real name.
Birthday: September 18th
Height: 5'10"
Eyes: Green
Hair: Dark Brown
Languages: Speaks fluent French, Italian, and German. Decent at Spanish.
Occupation: Costume designer/maker, pet mom, bartender.
Residency: Atlanta, Georgia
Hobbies: Cooking, baking, sewing, playing video games, hiking, the study of insects, reptiles, and nature in general, watching crime shows, namely Law & Order: SVU and Forensic Files.
Pets: Rooney, a Norwegian Forest Cat, Monroe, an American Shorthair Cat, Rahzar and Athena, the bearded dragons, Han, a green anole, Greedo, the gecko, Boba, a Bahamian anole, and Severus, the hognose snake
- Destiny can play the piano, guitar, and bass.
- Former gymnast, competed at the Elite level until age 15.
- Destiny is color blind.
You can follow Destiny's work here: